MOBILIA - AUTOMOBILE AND ROAD MUSEUM
75 Kustaa Kolmannentie
36270 Kangasala FINLAND
Opening hours
Contact details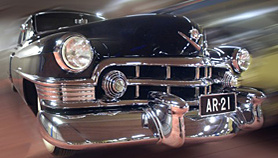 Summer: 10:00-20:00 Spring, autumn, winter: 10:00-16:00
Closed: June 22nd, November 3rd, December 6th, from December 22th to January 6th.
Description
The museum traces the history of motoring, motor vehicles and road traffic in Finland, and the exhibition items are mainly from the 20th century. Mobilia collects automobile and road literature, and documentary material and photographs housed in the library and archives may be consulted by researchers. There are three exhibitions : 1 international rallye car, 1 mobilia classic and 1 teen exhibition.
Prices
Normal price: 10€
Children (7-17 years): 6€
Students and seniors: 8€
Other useful information
Disabled facilities: yes
Parking: yes
Guided tour: yes