MARANELLO ROSSO COLLECTION
Strada dei Censiti, 21
47891 Falciano Repubblica San Marino SAN MARINO
Opening hours
Contact details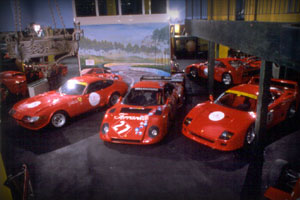 Monday-Friday: 10:00-13:00 / 14:00-18:00pm
Saturday, Sunday and holiday only by reservation


Description

Youngest son of the Violati family, Fabrizio was born on June 17th 1935 in a XIIth century mansion in the middleaged town of Sangemini, where he passed his youth learning the secrets of nature following the development of the main family companies: agriculture, mineral waters and he consequently got his degree in geology.

In the person of Fabrizio Violati you discover the taste of adventure and success?

Convinced assertor of the enormous Italian supremacy in the automobile field, overall in technic and design, after collecting automobiles in many years of research, he opens to the public a museum directed to illustrate the genius and the work of Enzo Ferrari and Carlo Abarth.
Prices
Normal price: ?12
Children (6 to 12 years old): ?10
School group (with guide): ?12

Other useful information
Disabled facilities: yes
Parking: yes
Guided tour: yes